Fraisier (French strawberry cake) (Slideshow version)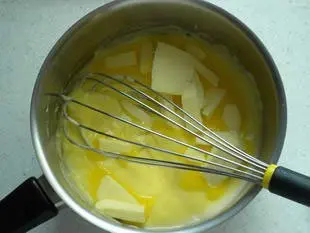 Stage 3/16 : 30 min.
Prepare 350 g
Confectioner's custard (Crème pâtissière, or French pastry cream)
. When it is made and has cooled a little (wait 15 minutes), incorporate 150 g
butter
very cold and cut into small pieces, beating thoroughly until the butter is well mixed in.
This cream is a "crème mousseline".