List of recipes using Blackcurrant:
3 recipes

(lactose free)

Blackcurrant muffins with a rather special ground almond dough. Blackurrants give a delicious hint of acidity, which goes very well with the almond flavour.
82,346
3.8/5 for 17 ratings 49 min.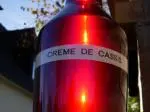 The fruit liqueurs (or "creams" in French) are a mix of neutral alcohol in which fruits are macerated, and sugar syrup. They are the basis of the very famous "Kir", mixture of dry white wine and blackcurrant liqueur. This recipe is for blackcurrant, but it can be made with other soft fruits like...
124,842 4
4.7/5 for 3 ratings 51 min.

Blackcurrants make a very good coulis, but it's a bit more difficult than with other fruits. Here is a simple method to help you succeed.
99,586 2
4/5 for 1 ratings 25 min.