List of recipes using Globe artichoke:
2 recipes

(gluten free)

This is a bed of vegetables cut small, lightly cooked to stay crunchy. The scallops are cut in half and fried, filled with a morsel of foie gras, and served coated with a savoury reduced white wine sabayon. It entails some work, but the result is impresive.
89,983
4/5 for 1 ratings 2 hours 56 min.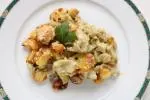 This hearty vegetable recipe uses the whole globe artichoke (heart and leaves), combining the creamy artichoke texture with the crunch of sautéed potatoes.
88 1 hour 18 min.