List of recipes using Fondant icing:
3 recipes

Cupcakes are small sponge cakes. In their original American version, they are usually decorated with brightly coloured icing. Here's a version inspired by the famous saguaro cactus, so common in Arizona.
61,416 1
4.6/5 for 14 ratings 1 hour 49 min.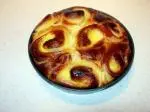 "Chinese" - what a strange name for this cake! A kind of brioche, filled with confectioner's custard (crème pâtissière) which can be decorated with fondant icing.
94,806 2
4.7/5 for 13 ratings 5 hours 29 min.

This might appear to be a straightforward recipe: choux pastry, chocolate confectioner's custard and fondant icing, but in practice it is quite technically tricky and all three stages need care to produce a perfect result.But don't let that discourage you; there are demonstration videos and I will...
65,814 3
4.5/5 for 2 ratings 3 hours 52 min.