List of recipes using Shortcrust pastry (pâte brisée):
2 recipes

(lactose free)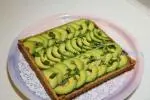 This unusual tart features two star ingredients of South American cuisine: red kidney beans and avocado. The shortcrust pastry case is filled with a red bean and onion purée, then topped with sliced avocado dressed with lime and garnished with fresh coriander.
1,285 1 hour 17 min.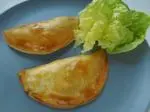 These small pasties ("rissoles" in the original French version) are made with shortcrust pastry, filled with a mixture of cooked meat, onion, parsley, garlic and egg.
12,095
3.8/5 for 12 ratings 1 hour 14 min.