List of recipes using Dried prunes:
3 recipes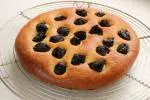 This cake from Agen, in southwestern France, is a type of brioche. Inspired by the famous "tarte au sucre" (sugar tart), it is like a thick "galette" with a moist texture, filled with prunes and marzipan with Armagnac.
3,083 1 hour 51 min.

Far is a traditional recipe from Brittany in northwest France. The name comes from the Breton word 'farz' meaning flour. This is the traditional way, with prunes, but you can adapt it according to taste.
66,193 1
5/5 for 1 ratings 1 hour 10 min.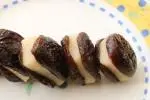 Stuffed prunes are a sweetmeat made with halved dried prunes sandwiched together around a morsel of marzipan flavoured with Armagnac.
4,019 20 min.