List of recipes using Stewed rhubarb:
2 recipes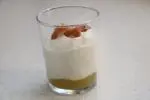 This delicious mousse is the perfect summer dessert: a delicate combination of stewed rhubarb and Italian meringue.
1,759 33 min.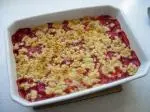 A three-layer crumble: a layer of stewed rhubarb, then strawberries and a crumble topping. You'll see that the flavour of rhubarb goes very well with strawberries.
42,906
5/5 for 13 ratings 1 hour 40 min.