List of recipes using Rabbit meat:
4 recipes
List of recipes using Rabbit meat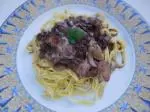 Rabbit civet is a classic dish of French cuisine. The word "civet" comes from "cive", an old word for onion. These days, the name refers to chunks of meat, marinated then cooked slowly in red wine with bacon, mushrooms and onions. This tasty stew or casserole, with its very tender meat, is like my...
59K
4
15 hours 20 min. December 30
th
2019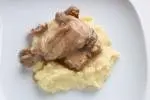 In French cooking, "à la normande" means there are apples involved, as Normandy is famous for them. In this twist on the classic civet, the rabbit meat is cooked on the bone in cider, after marinating overnight. The sauce is made at the end with the cooking juices and cream.
28K
4.6
15 hours 3 min. March 26
th
2017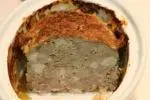 This is a rather special rabbit terrine, with some of the meat added in larger morsels to the minced mixture before cooking. These whole pieces of rabbit show when the terrine is sliced and add character, both in flavour and texture.
64K
4.6
15 hours 32 min. April 8
th
2018

This recipe uses boned rabbit. This is sautéed in mustard then cooked in the oven. It is served with broad beans, bacon and mushrooms, and a sauce made with reduced white wine.
160K
4.9
2 hours 9 min. May 15
th
2011