List of recipes using Grand Marnier:
2 recipes
List of recipes using Grand Marnier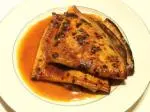 Crêpes Suzette are pancakes filled with orange-flavoured butter (butter and sugar mixed with Grand Marnier), caramelized in a pan and soaked in orange-flavoured syrup. This is an modified version of the recipe invented by Auguste Escoffier.
111K
4.1
48 min. February 28
th
2013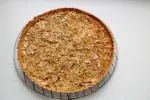 This almond tart is an American-inspired version of the classic dessert. This one leaves out the almond cream or frangipane and uses flaked almonds instead. These are toasted, then mixed with cream and sugar. There's no point denying it, this is a rich dessert...
24K
4.8
1 hour 24 min. August 27
th
2017