List of recipes using Vietnamese fish sauce (nuoc mam):
2 recipes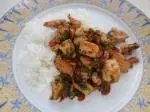 This Thai-inspired recipe combines diced chicken with cashew nuts, spring onions, herbs and a lime-soy sauce.
9,841
5/5 for 13 ratings 24 min.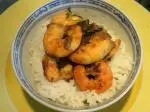 In this recipe, the prawns are first lightly fried, then spiced up with a piquant sauce.
23,865
4.3/5 for 15 ratings 54 min.