List of recipes using Peanuts:
2 recipes

(gluten free)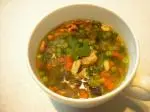 This delicious soup is a flavoursome mix of herbs, mushrooms, soya noodles and small diced vegetables briefly cooked in vegetable stock. It takes a while to make and there are lots of ingredients, but the result is worth it.
28,856 2
4.5/5 for 15 ratings 1 hour 15 min.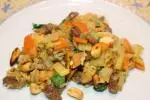 This sautéed pork has a hint of Thai style, with its accompaniment of chopped vegetables, dry-roasted peanuts and soy sauce.
7,617
3.9/5 for 18 ratings 55 min.