List of recipes using Chilli powder:
3 recipes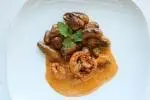 The langoustines in this recipe are cooked in two stages: boiled briefly in salted water, then sautéed before being spiced and flambéed in cognac. They are served here with a creamy sauce and potato grenaille.
5,638
5/5 for 13 ratings 1 hour 9 min.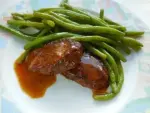 For this recipe with a Mexican flavour (New Mexican, actually), I have used tender medallions of pork fillet mignon. These are first marinated in a spicy oil then pan-fried with the remaining marinade. Serve with green beans and sauce made with a reduced vegetable stock in the frying pan.
6,708
5/5 for 1 ratings 44 min.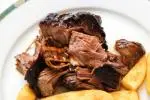 For this delicious roast, the beef joint is seared all over, then wrapped in slices of grilled (broiled) bacon before the final long, slow roasting in a bag with aromatic ingredients (bayleaf, shallots, carrot, thyme and chilli). Cooked this way, the meat will be well done on the outside, meltingly...
5,009
4.5/5 for 12 ratings 5 hours 39 min.