Making the most of seeds: Dry roasting
---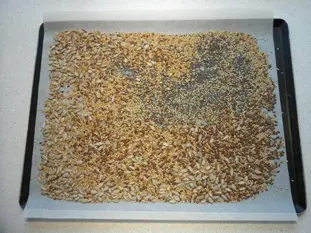 In cooking, and particularly in baking, there are a lot of seeds we can use, such as linseed, sesame, poppy, etc. Usually, recipes simply say to add them just as they are to the mixture or dough.

To make a seeded loaf, for example, prepare a plain bread dough as usual, then, towards the end of kneading, add around 200g (6 oz) of seeds per kilo (2 lb) of flour, generally a mixture of the seeds listed above. There is nothing wrong with this and your seeded bread will be good.

But there is one thing you should know, a bakers' secret, no less; there's a trick that will allow you to improve your recipe: you should dry roast the seeds before adding them.
Last modified on: January 30th 2015