Coarsely chopped herbs
---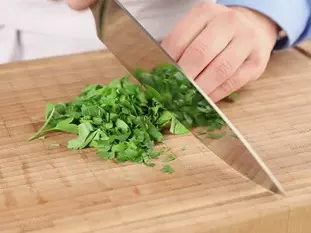 Although we are in the middle of winter as I write these lines, you should not hesitate to make salads at this time, it is actually quite simple, rather fast, and so pleasant.

A while ago, I already told you that a salad is a salad, but a salad with herbs is immediately something much better: taste, freshness, chewiness, herbs bring all that, and you really shouldn't hesitate to put them everywhere, if you like it of course.

Well, do you have to chop them up ? cut them with scissors ? thin ? thick ?
Last modified on: January 9th 2021
Keywords for this post:
Herbs
Knife
Chopping
Sauces
Salads
Scissors
Chopper