Coarsely chopped herbs
In the old days, it was customary to chop parsley very finely, for example, before adding it to a recipe. Generations of cooks have learned to make a quasi "powder" of parsley, because that was how it was done.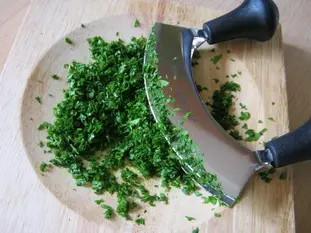 And then, with the arrival of the new kitchen, the chefs realised that the finer you chopped, the more the taste of the herb was lost, the expression to express this is "The taste remains on the board", understand: you chopped so much that all the taste is gone on the cutting board, and very little is left with the mince itself.
As a result, we backtrack, we no longer chop finely, we chop big, very big, or even we don't chop at all.
In practice, at home, no more fine chopping so the best thing is either to chop, "chisel" is a better term, roughly, with a sharp knife, and add immediately to the recipe/salad.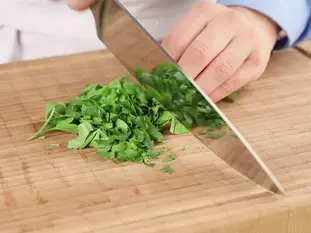 To do this:
- Remove all the leaves from your chosen herb (parsley for example), discard the tails, or better still, use them in another recipe.
- Gather all the leaves into a small, tightly packed pile
- Cut this small pile, fairly roughly, with a sharp knife (4 or 5 strokes, not more)
- Immediately add the herbs to your recipe.
By doing this, you will get the taste and freshness of the herbs in your dish, and if you can stir after adding them, cover and wait 30 minutes, it will be even better.
And if you come across chopped herbs in a shop, it is a heresy, don't buy them, depending on their degree of freshness they will simply have little or no taste.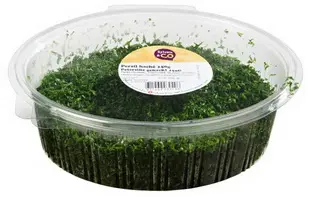 To sum up
: Don't chop your herbs too finely, chop instead, with a knife and add immediately, to really reveal the taste.