The blog of cooking-ez.com
In praise of slow cooking
You will no doubt have noticed that in cookery, it's often the actual cooking process that gets neglected. This is understandable; it comes at the end of the recipe and getting the dish in the oven is something of a relief (ah, that's done!), which frees us to cope with what's left: tidying the scene of the action, doing the washing up.. or starting on another recipe.
We're tempted to treat the cooking process in a rather cavalier fashion; we want it done fast, even as quickly as possible to enjoy the dish as soon as we can. So we turn up the oven and the quicker it's done, the better!
For a lot of dishes, whether they're cooked fast or slow, hotter or cooler, doesn't really matter. Take a cake for example, as long as it's not actually burnt, when it's done, it's done and it needs to come out of the oven otherwise it will start to dry out and harden, then burn.
But for plenty of other dishes, and especially those containing vegetables or meat, it's possible to use another style of cooking, known as "slow cooking" or "low temperature cooking".
The principal is as simple a it gets: we turn down the heat and increase the length of cooking time accordingly. The cooking time is therefore much longer, but as the temperature is so much lower than normal, the dish doesn't burn.
This is not a recent discovery of molecular cuisine or the like, it's a principal as old as the hills which we're only now rediscovering.
With this long, slow cooking – and it is real cooking – the ingredients are not shocked by the oven temperature, but gently brought up to the right temperature. A renowned dish of French cuisine which uses this method is the famous "
seven-hour lamb
" (leg of lamb).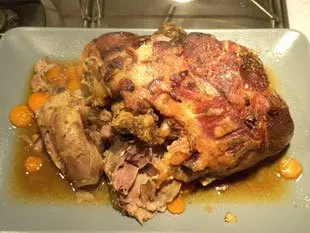 This has two major consequences:
1) The food doesn't dry out. This applies to meat in particular, which stays tender and develops a melting texture (you can break it apart with a fork).
2) Flavours are enhanced, as the process favours the famous
Maillard reactions
.
So, in short, there is everything to be gained, the only drawback being the extra time required for dishes to be properly cooked, which may not always be available.
One concrete example: to roast a chicken by the conventional method, the oven is normally set to 220°C (430°F) for about 45 minutes. The result is a roasted, browned chicken that's already rather good.
For slow cooking, the same chicken can be put in the oven at 140°C (280°F) for 5 hours, and the result is a roast chicken with an amazing flavour and so tender that it can be eaten simply with a fork; the meat just falls off the bones, even on the drumsticks.
It's
five hours poultry
.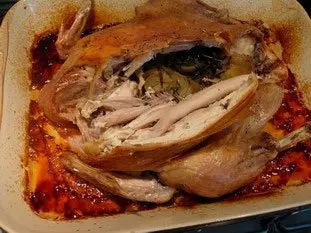 The same process can be prolonged even further by putting the same chicken in a cooking bag with vegetables and whatever herbs you choose into the oven at 100°C (210°F) for 12 hours. You'll be surprised at the result.
To round up, don't forget that slow cooking is more of a method than a recipe, so the temperature and time are not necessarily exact. You just need to keep the temperature below 150°C (300°F) and above 80°C (180°F), then alter the cooking time depending on the result you wish to achieve, but with a minimum of 2 hours. The simple rule is this: the lower the temperature, the longer the cooking time needs to be.
One tip, even so : if you want to slow cook a piece of red meat, it will look much more appetising if you seal it on each side for one minute in a little really hot oil, and only then put it on to cook slowly.
Last modified on: February 9th 2011
Post a comment or question:
You are welcome, if you wish, to comment on this page: why you like it or not, what you have changed, what results it gave, point out a mistake or omission, etc. You can also ask a question. I answer all questions (in a broken English, sorry) unless someone else does it before me.
Please feel free to say what you think, I'm always very interested in your opinion. Your comment will appear on line with the page, so please write in standard readable English, not SIM or only in CAPITALS, otherwise your comment may be rejected.
Please look at advice for submitting a comment or image (what you should or should not do). By the way, don't type your e-mail address in the comment, otherwise you might be spammed.
Follow this page
If you are interested in this page, you can "follow" it, by entering your email address here. You will then receive a notification immediately each time the page is modified or a new comment is added.