How long does it take?
Time required for this recipe:
| Preparation | Cooking | Start to finish |
| --- | --- | --- |
| 2 min. | 10 min. | 12 min. |
---
Step by step recipe
---
Stage 1 - 2 min.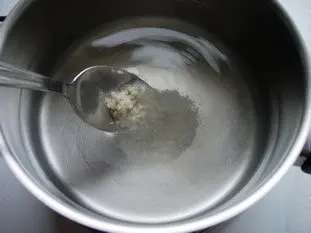 1 litre of water is put in a pan and 1 tbs coarse salt is added.
---
Stage 2 - 10 min.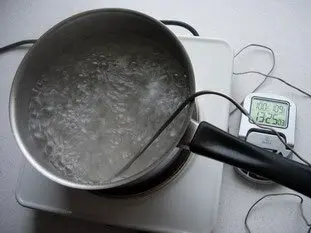 The water temperature is measured in the same way, every minute, until it boils.
---
Stage 3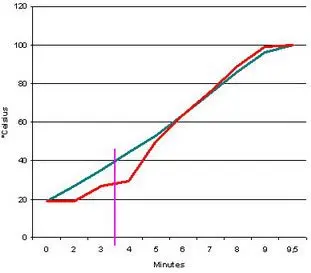 Let's compare times and temperatures in this diagram: the unsalted water in green, the salted water in red.
Conclusion
At the start of heating, the temperature of the salted water rises more slowly: after 3 minutes 30 seconds the unsalted water is already at 040°C (100°F), while salted water is still at 025°C (80°F).
But then the two catch up and they take the same time to reach 100°C (210°F).
Another point: it seems, but I'm not really adamant about it, that salted water starts to boil at a lower temperature than unsalted, i.e. around 90°C (190°F) rather than 100°C (210°F).
Other recipes you may also like
News list of cooking-ez.com
Sign up to receive the latest recipes (next batch due to be sent on 2021-04-25)
Note: We'll never share your email with anyone else.
Follow this recipe
If you are interested in this recipe, you can "follow" it, by entering your email address here. You will then receive a notification immediately each time the recipe is modified or a new comment is added. Please note that you will need to confirm this following.
Note: We'll never share your email with anyone else.