List of recipes using Metton cancoillotte:
3 recipes
List of recipes using Metton cancoillotte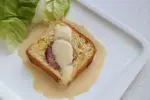 Here is a quite sophisticated take on a Morteau sausage brioche. The sausage is first cooked in the oven, then rolled up in a brioche dough with metton cancoillotte before being left to rise. After baking, it is served sliced with a Vin Jaune cream sauce.
13K
3 hours 15 min. October 10
th
2018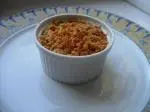 A small ramekin filled with sausage sandwiched between two layers of cooked mushrooms, topped with a savoury crumble made with cancoillotte (a cheese typical of eastern France). All the French region of Franche-comté is in this recipe: Morteau sausage, cancoillotte cheese, and Jura white wine.
218K
2
4.6
3 hours April 6
th
2017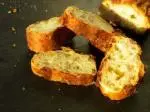 Thin baguettes made with Morteau sausage and cancoillotte cheese. The cancoillotte is added in the form of crumbled metton curds (normally melted in milk to make the creamy cancoillotte). Sliced thinly, these sticks make an ideal aperitif snack for sharing with friends.
85K
4
5 hours 27 min. October 24
th
2017