List of recipes using Red wine:
4 recipes

(without meat)

Pears cooked until soft in a red wine and blackcurrant syrup, served with the reduced syrup and custard sauce (crème anglaise).
82,330
4.1/5 for 16 ratings 2 hours 35 min.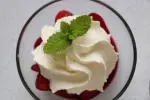 Serving strawberries in red wine is a classic French dessert. Here is a more sophisticated version, with the red wine reduced to a light syrup with notes of thyme and lemon.
2,868 1 hour 23 min.

If it's cold or you're in the snow, you will appreciate mulled wine which warms body and soul... There are as many mulled wine recipes as ski runs, so here is a basic one that you can easily adapt to your taste.
77,316 1
4/5 for 1 ratings 1 hour 32 min.

The rich "marchand de vin" sauce, made with red wine and shallot, is a classic accompaniment for meats that is traditionally made in the roasting tin or dish. This is a simplified version that can be made while the meat is cooking, even beforehand, so there is no risk of it going cold.
32,082
4.1/5 for 17 ratings 34 min.