List of recipes using Sole fillet:
3 recipes
List of recipes using Sole fillet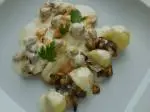 In principal, fillets of sole Dieppoise are poached and served with a creamy sauce and small shellfish. I am offering a new twist on the dish, with the fish sautéed rather than poached, a cream sauce flavoured with mussel stock, and served with shellfish (mussels, cockles and clams), mushrooms and...
41K
3.9
1 hour 27 min. December 30
th
2019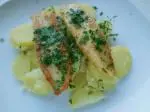 Sole "meunière" gets its name no doubt from the flour used to coat the fish ("meunière" is French for miller's wife). It is a classic of French bistro cuisine, rich with butter, basically simple, but easy to do badly. Here are all the tips you need to succeed, using fillets rather than fish on the...
139K
4.3
24 min. November 10
th
2014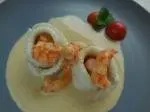 The turban is made from a rolled fillet of sole poached in fish stock. Each turban is then filled with sautéed langoustines and a tasty cream sauce, flavoured with langoustine stock. This dish takes quite a long time to make because of the langoustine stock, but you will really impress your guests.
60K
4.1
1 hour 44 min. November 23
th
2014