Fillets of sole Dieppoise
---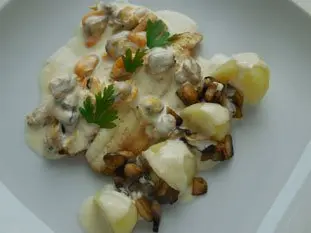 In principal, fillets of sole Dieppoise are poached and served with a creamy sauce and small shellfish.

I am offering a new twist on the dish, with the fish sautéed rather than poached, a cream sauce flavoured with mussel stock, and served with shellfish (mussels, cockles and clams), mushrooms and boiled potatoes.

The recipe is quite long and prepared in separate stages (fish, sauce, mushrooms, shellfish, potatoes). The tricky bit is having everything hot to assemble and serve.
Last modified on: December 30th 2019
Keywords for this recipe:
Fillet
Sole
Fish
Cream
Sauce
Normandy
Shellfish