List of recipes using Quince:
2 recipes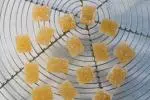 This traditional French "pâte de fruit" (fruit paste or leather) has a distinctive, firm consistency and is full of flavour, with the characteristic tang of quince. The preparation is rather long, but the result is well worth all the effort.
4,503
1/5 for 1 ratings 2 hours 3 min.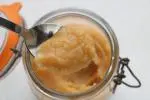 This compote is a tricky balancing act between the characteristic quince flavour and just enough apples to sweeten it. You should end up with a compote that has a delicate quince flavour rounded out by the apples and brown sugar.
5,651
3/5 for 2 ratings 59 min.