List of recipes using Quince:
4 recipes
List of recipes using Quince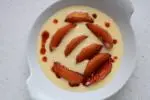 In this simple recipe, the sliced quinces are gently stewed in Jura Macvin until melting and caramelized. Served with real custard, this gives a delightful contrast of flavour and colour.
11K
1 hour 20 min. January 10
th
2021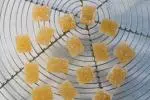 This traditional French "pâte de fruit" (fruit paste or leather) has a distinctive, firm consistency and is full of flavour, with the characteristic tang of quince. The preparation is rather long, but the result is well worth all the effort.
25K
1
2 hours 3 min. December 3
rd
2017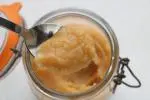 This compote is a tricky balancing act between the characteristic quince flavour and just enough apples to sweeten it. You should end up with a compote that has a delicate quince flavour rounded out by the apples and brown sugar.
69K
3
59 min. December 30
th
2019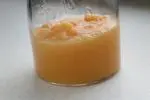 Quinces make an excellent compote, full of their delightful perfume and flavour. However, preparing the fruit is hard work, so here's a recipe to show you how to manage this.
17K
55 min. November 11
th
2020