Should I believe my oven?
When I set my oven to 200°C, is it really at that temperature? The actual temperature can be measured easily if you have an accurate
thermometer
.
To check my own oven (a "De Dietrich" model UMP501), I placed the probe of the thermometer in the oven, closed the door, set it to 200°C and noted the temperature at 30 second intervals over 20 minutes.
Ideally, of course, the oven should heat up rapidly to exactly 200°C, then stay at this temperature until I open the door to put the food in, or until I turn it off. Unfortunately, the reality is dramatically different. Here is the temperature curve recorded: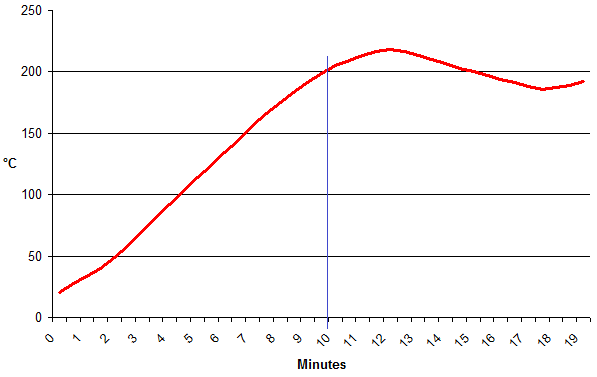 From this graph we can note that:
1) The oven takes 10 minutes to reach 200°. So far, so good.
2) It beeps to tell me that it has reached 200° when, in fact, it is only at 191°, which is not so good.
3) Although it is supposed to stop heating at 200°C, it goes up to 217° before coming back down to 186°, and from then on it varies 10 or 20° around the set temperature, which is far from ideal.
These variations are significant but, fortunately, not the end of the world for most recipes. A little hotter or cooler doesn't make that much difference, and can be compensated by a slightly shorter or longer cooking time.
But take care, even so, with recipes that require a precise temperature, such as
macarons
or
foie gras
. For these, it is a good idea to measure the oven temperature when it indicates that it is at the right temperature, then adapt the recipe accordingly.
This is somewhat disappointing, as my oven was quite expensive at the time, and the salesman promised me an oven that had "precise temperature control" . But then, when it comes to selling, they always promise the moon.
So, in the end, in answer to the question "Should I trust my oven?" the reply is definitely: no, you should not trust your oven. Instead, you should measure and calibrate it beforehand to know how it really performs.
And then, we're talking here about an electric oven. Just imagine what's involved with a gas oven…