The blog of cooking-ez.com
The golden-brown finish on puff pastry
Let's take a look at the tricky matter of producing puff pastry with an attractive, golden-brown finish. French pastry chefs call this "dorure" (literally, "gilding").
Behind this quirky term there lurks a real problem (and the solution): when using
puff pastry (pâte feuilletée)
for a pie, or to prepare a feuilletage for a recipe, how can we ensure that the baked pastry has a beautifully browned crust?
Is this really a problem? Well, yes, as there is no sugar in the pastry – it is just flour, water and butter – so it does not naturally brown well during baking. We need to understand that, even if it is fully cooked, pale and colourless pastry looks pretty unappetising.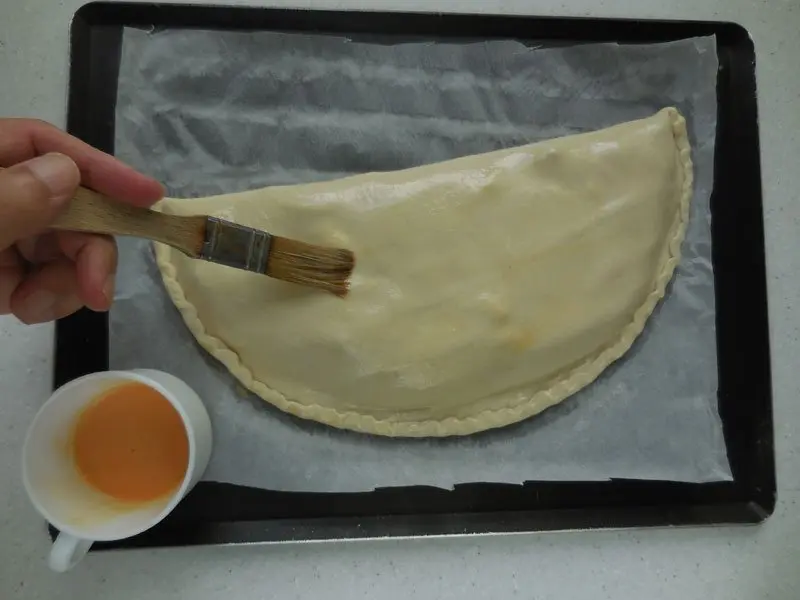 To overcome this, pastry chefs/bakers/cooks use a glaze made from
beaten egg
. They brush the pastry with this before baking.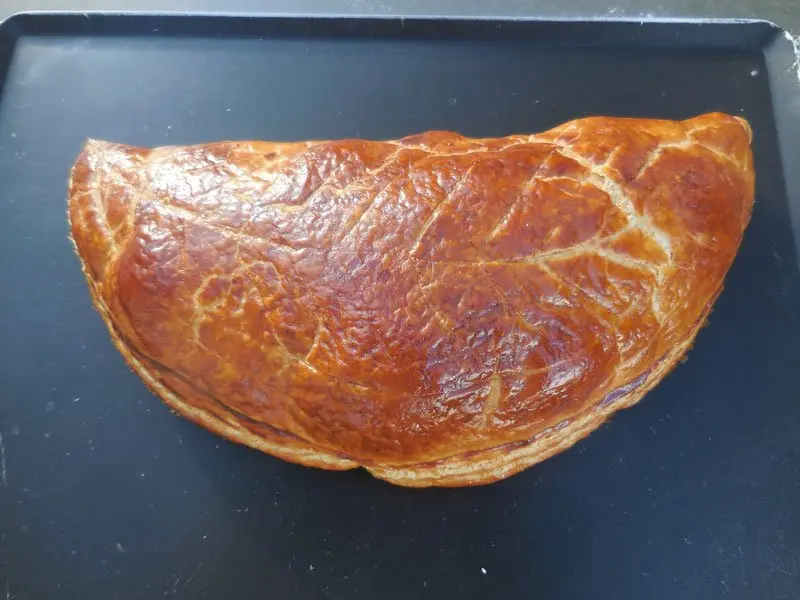 During cooking, this glaze turns golden brown – the attractive colour that makes puff pastry items so appealing:
vol-au-vent
,
rolls
,
pasties
, etc.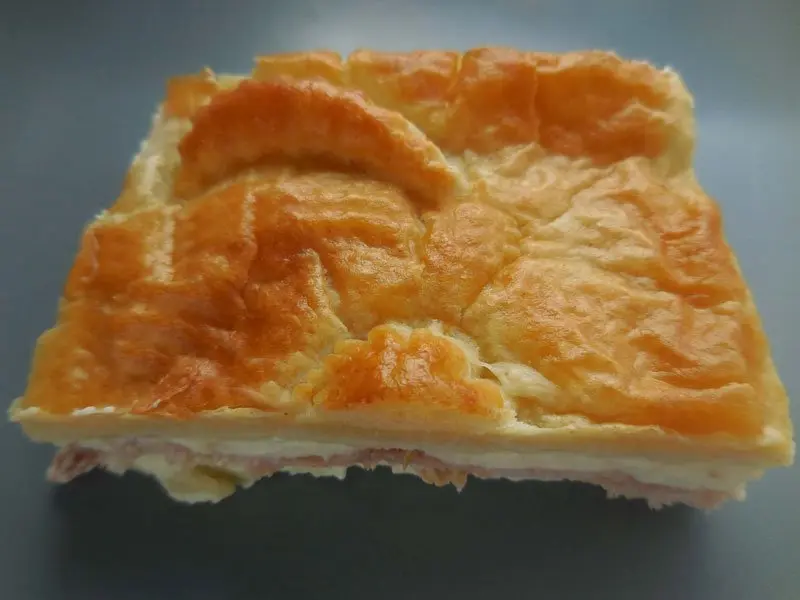 It is very easy to glaze a piece of pastry with a brush, but it is also easy to make the mistake which can ruin everything: glazing down the cut edges of the pastry as well. This prevents the pastry rising, as it effectively "welds" the edges shut and stops the pastry puffing up into flaky layers.
Simply put, we should only brush the glaze over
the top surface of puff pastry
, and avoid getting on the sides. This will allow the pastry to puff up as much as possible.

This diagram represents a piece of puff pastry on a baking sheet: brown indicates
where to brush the glaze
, and red indicates
where to avoid glazing
(yes, I know, I know – you can see that my drawing skills are somewhat limited).
This is why on a
vol-au-vent
, for example, the top is always nicely browned, but the sides are still pale – and that is just how it needs to be.
To sum up
: For nicely browned puff pastry, brush the glaze over the top, but avoid glazing the sides.
Last modified on: February 8th 2018
Post a comment or question:
You are welcome, if you wish, to comment on this page: why you like it or not, what you have changed, what results it gave, point out a mistake or omission, etc. You can also ask a question. I answer all questions (in a broken English, sorry) unless someone else does it before me.
Please feel free to say what you think, I'm always very interested in your opinion. Your comment will appear on line with the page, so please write in standard readable English, not SIM or only in CAPITALS, otherwise your comment may be rejected.
Please look at advice for submitting a comment or image (what you should or should not do). By the way, don't type your e-mail address in the comment, otherwise you might be spammed.
Follow this page
If you are interested in this page, you can "follow" it, by entering your email address here. You will then receive a notification immediately each time the page is modified or a new comment is added.