The so-called "nervous" meats
---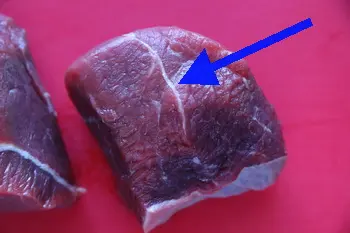 You've probably heard this before, we're talking about "nervous" meat, or meat with nerves, to describe what is indicated by the blue arrow on the left.

This is a piece of beef, and what we call a nerve is not a nerve, it is in fact collagen (chemists sometimes call it a "collagen sink"), a protein that is found in varying amounts in some of the meats we eat.

But we'll continue to call them "nerves" for the rest of this post, it will be simpler.

Last modified on: April 16th 2021
Keywords for this post:
Meat
Nerves
Collagen
Cooking
Gelatin