Cooking utensils: Bannetons (bread rising baskets)
Bannetons (bread rising baskets)
Once dough is kneaded and worked, it needs to be left to rise in a warm place before baking.
Turning the risen uncooked dough onto the peel for transfering to the oven can be a tricky moment, especially if the dough has stuck to the container. To avoid this, bread is traditionally left for its final rising in special baskets lined with a linen cloth, floured generously beforehand. These help the bread to rise evenly because the warm air can circulate through the sides, and the linen lining does not absorb the moisture from the dough. The French term for such a basket is "banneton".
If you intend to buy:
These are often made of willow, lined with a linen or cotton cloth.
They are available in different shapes, according to the kind of loaf you wish to make, from professional bakery suppliers. They are sometimes seen for sale in supermarkets, sold as table bread baskets (about 5-6 € each in 2005).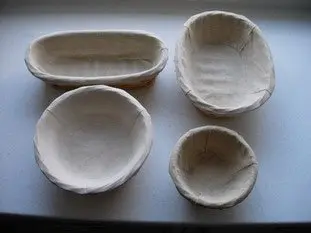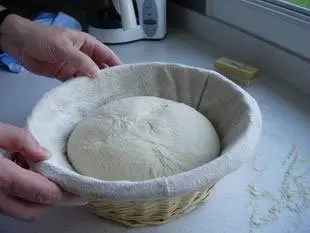 Post a comment or question:
You are welcome, if you wish, to comment on this page: why you like it or not, what you have changed, what results it gave, point out a mistake or omission, etc. You can also ask a question. I answer all questions (in a broken English, sorry) unless someone else does it before me.
Please feel free to say what you think, I'm always very interested in your opinion. Your comment will appear on line with the page, so please write in standard readable English, not SIM or only in CAPITALS, otherwise your comment may be rejected.
Please look at advice for submitting a comment or image (what you should or should not do). By the way, don't type your e-mail address in the comment, otherwise you might be spammed.