Cooking utensils: Cream whipper
Cream whipper
The Gourmet Whip was initially intended for making whipped cream (like
chantilly
) by injecting a neutral gas. But now it is used for many other foams, in different flavours, savoury or sweet, cold or hot.
It was the Catalan chef
Ferran Adria
who started to use a Gourmet Whip to make his famous "espumas" (Catalan word for foams), sometimes hot, in surprising flavours.
If you intend to buy:
Don't get a "chantilly cream whip" which will be too limited. See the
best addresses page
for more information.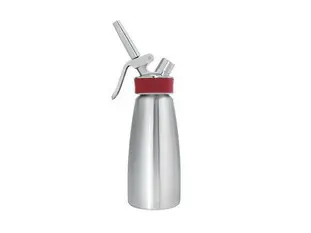 Post a comment or question:
You are welcome, if you wish, to comment on this page: why you like it or not, what you have changed, what results it gave, point out a mistake or omission, etc. You can also ask a question. I answer all questions (in a broken English, sorry) unless someone else does it before me.
Please feel free to say what you think, I'm always very interested in your opinion. Your comment will appear on line with the page, so please write in standard readable English, not SIM or only in CAPITALS, otherwise your comment may be rejected.
Please look at advice for submitting a comment or image (what you should or should not do). By the way, don't type your e-mail address in the comment, otherwise you might be spammed.