List of recipes using Pineapple:
5 recipes
List of recipes using Pineapple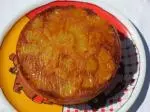 The dominant flavours in this cake are pineapple and almonds. The pineapple is caramelized first separately, with brown sugar and lime, before being laid in the bottom of the tin. The cake batter is then poured over. The cooked cake is turned out to reveal the lovely golden pineapple layer on top a...
48K
4.5
1 hour 7 min. December 30
th
2019

Cold grapefruit quarters with slices of hot caramelized pineapple, lime custard (crème anglaise) and citrus crunch.
242K
4.6
2 hours 5 min. December 20
th
2010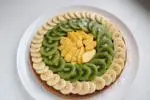 An exotic fruit tart (bananas, kiwi and pineapple), with crisp pastry and almond cream which are cooked beforehand. It's a rather simple recipe, but the final result will impress your guests.
295K
5
2 hours 23 min. May 27
th
2020

For most recipes it is necessary to completely peel the pineapple, and to keep only the flesh which is then often cut into small pieces. Here is a method.
186K
3.7
20 min. February 21
th
2011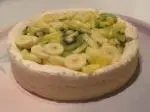 Pavlova is a dessert which originated in New Zealand (or was it Australia?). It consists of a meringue shell filled with a layer of whipped cream and topped with seasonal fruit.
101K
4.3
2 hours 34 min. March 24
th
2013