How long does it take?
Time required
| Preparation | Start to finish |
| --- | --- |
| 20 min. | 20 min. |
Keeping:
Several days in the fridge, covered by a plastic film.
At what time?
When will I finish if I start the recipe at a certain time?
When should I start for the recipe to be ready at a certain time?
Work this out...
---
Step by step recipe
---
Stage 1 - 2 min.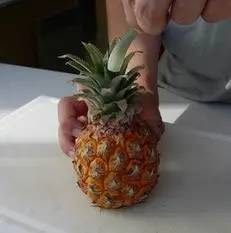 You will need the following utensils:
Your pineapple should be very ripe, to check this, you should be able to pull out one of the central leaves easily.
---
Stage 2 - 1 min.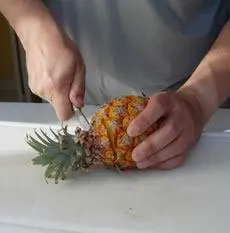 Start with top: cut about 1 cm or ½ inch beneath the leaves.
---
Stage 3 - 1 min.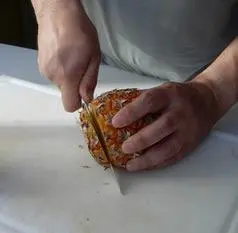 Then the bottom, remove 1 cm or ½ inch here too.
---
Stage 4 - 4 min.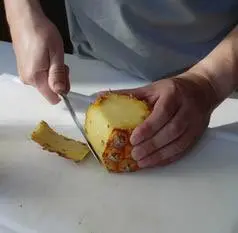 Stand the pineapple up, and cut vertically in strips to remove all the skin.
---
Stage 5 - 3 min.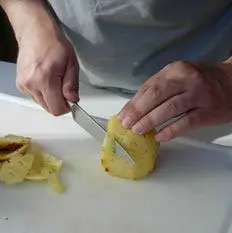 Go over the outside again to cut off any remaining "eyes". Pineapple should now be completely yellow.
---
Stage 6 - 1 min.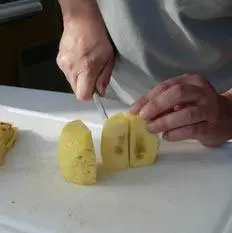 Cut pineapple into quarters vertically.
---
Stage 7 - 3 min.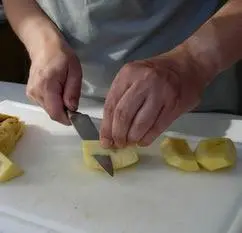 Lay each piece flat, cut out the hard fibrous core. Also remove any brown over-ripe parts.
---
Stage 8 - 3 min.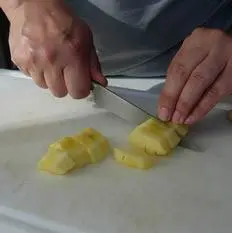 Then cut quarters as required for your recipe, here in medium size pieces.
---
Stage 9 - 2 min.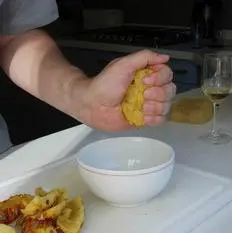 Finally, squeeze all the pieces of skin or trimmings of flesh in your hands to extract the juice that you can drink or use in a recipe or a cocktail.
Remarks
This method applies to a Victoria Pineapple (small, but incredably tasty, especially if they come from Reunion), but of course it's the same for other kinds of pineapple.
Nutritional information
% are calculated relative to a Recommended Dietary Intake or RDI of 2000 k-calories or 8400 k-joules by day for a woman (change to a man).
How much will it cost?
Note : These prices are only approximate
Source
Home made
More recipes?
This recipe uses (among others)
News list of cooking-ez.com
Sign up to receive the latest recipes (next batch due to be sent on 2019-08-18)
Note: We'll never share your email with anyone else.
Follow this recipe
If you are interested in this recipe, you can "follow" it, by entering your email address here. You will then receive a notification immediately each time the recipe is modified or a new comment is added. Please note that you will need to confirm this following.
Note: We'll never share your email with anyone else.