List of recipes using Pineapple:
3 recipes

(gluten free)

Cold grapefruit quarters with slices of hot caramelized pineapple, lime custard (crème anglaise) and citrus crunch.
94,267
4.6/5 for 14 ratings 2 hours 5 min.

For most recipes it is necessary to completely peel the pineapple, and to keep only the flesh which is then often cut into small pieces. Here is a method.
35,998
3.7/5 for 19 ratings 20 min.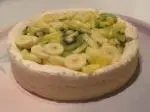 Pavlova is a dessert which originated in New Zealand (or was it Australia?). It consists of a meringue shell filled with a layer of whipped cream and topped with seasonal fruit.
29,339
4.3/5 for 18 ratings 2 hours 34 min.