List of recipes using How to succeed in making sabayon (syllabub):
3 recipes

Fresh grapefruit and / or pears, covered with a sabayon and a pinch of citrus crunch.
80,328
4.7/5 for 20 ratings 55 min.

This recipe is made by briefly cooking an assortment of soft fruits (raspberries, blackcurrants, blackberries, blueberries, currants...) with a little sugar to glaze them. They are served in a small dish, covered with a delicious sabayon which can be lightly "burned" on surface.
80,954
3.9/5 for 18 ratings 46 min.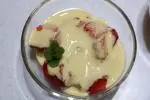 This is a very simple recipe, but the result is absolutely delicious (as long as it's strawberry season, of course): morsels of really ripe strawberries in a sabayon made with sweet white wine.
404 24 min.