List of recipes using Pancake batter:
3 recipes
List of recipes using Pancake batter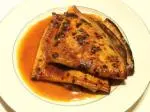 Crêpes Suzette are pancakes filled with orange-flavoured butter (butter and sugar mixed with Grand Marnier), caramelized in a pan and soaked in orange-flavoured syrup. This is an modified version of the recipe invented by Auguste Escoffier.
127K
4.1
48 min. February 28
th
2013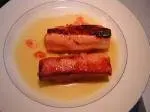 Stewed apples, raisins soaked in whisky, toasted almonds, rolled in a lightly caramelized pancake.
231K
4.3
2 hours 16 min. March 10
th
2015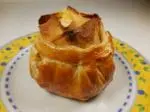 This dessert, named after a small town in Normandy, consists of a pear filled with confectioner's custard (French pastry cream), which is wrapped in a pancake and puff pastry, then baked. The "douillon" part of the name comes from a warm coat, the "douillette", of former times.
60K
4.3
1 hour 3 min. November 26
th
2014