List of recipes using Pancake batter:
3 recipes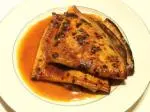 Crêpes Suzette are pancakes filled with orange-flavoured butter (butter and sugar mixed with Grand Marnier), caramelized in a pan and soaked in orange-flavoured syrup. This is an modified version of the recipe invented by Auguste Escoffier.
36,467
4.1/5 for 10 ratings 48 min.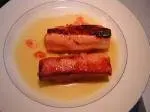 Stewed apples, raisins soaked in whisky, toasted almonds, rolled in a lightly caramelized pancake.
73,446
4.3/5 for 15 ratings 2 hours 16 min.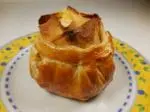 This dessert, named after a small town in Normandy, consists of a pear filled with confectioner's custard (French pastry cream), which is wrapped in a pancake and puff pastry, then baked. The "douillon" part of the name comes from a warm coat, the "douillette", of former times.
14,419
4.3/5 for 19 ratings 1 hour 3 min.