List of recipes using Slices thin toast:
3 recipes

A very refreshing starter, containing prawns and smoked fish.
75,505
5/5 for 1 ratings 54 min.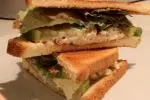 This is a sandwich with a difference: its Breton character comes not only from the crab in mayonnaise, but also from pieces of "galette" (buckwheat pancake), fried in butter.
7,693
3.8/5 for 17 ratings 22 min.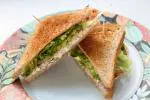 This is a rapid club sandwich recipe that combines the taste of the sea (sardines in oil) with the terrestrial flavour of fried bacon. The two are accompanied by a layer of cream cheese with herbs.
3,016
4.3/5 for 12 ratings 24 min.