List of recipes using Dried morels:
5 recipes
List of recipes using Dried morels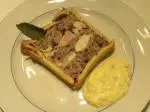 The French classic "Paté en croute" is a terrine of different meats layered and baked in a pie crust. There are many recipes which vary the kind of meat and the seasonings. This is my version with pork, veal and chicken, which is not too difficult, though it does entail quite a lot of work.
189K
13
4.2
6 hours 49 min. September 7
th
2018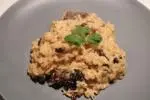 This is a rather special risotto recipe with Morel mushrooms, cooked with Jura Vin Jaune wine, and with Mont d'Or cheese added just before serving to make it extra creamy. With the trio of morels, Vin Jaune and Mont d'Or, this is an ideal way to bring together the delicious flavours of the...
42K
3.8
1 hour 53 min. September 4
th
2018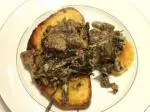 This is a French version of mushrooms on toast! The mushrooms are simmered in cream then served on a slice of fried buttered bread.
202K
3.8
2 hours 5 min. April 6
th
2017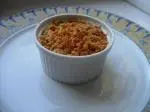 A small ramekin filled with sausage sandwiched between two layers of cooked mushrooms, topped with a savoury crumble made with cancoillotte (a cheese typical of eastern France). All the French region of Franche-comté is in this recipe: Morteau sausage, cancoillotte cheese, and Jura white wine.
228K
2
4.6
2 hours 45 min. May 10
th
2023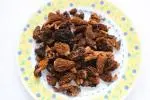 Rehydrating dried mushrooms restoes them to something like their fresh texture, ready to use in a recipe. You will see that there is more to it than simply leaving them to soak in water. At the same time, we can also make a delicious mushroom "jus" to use in recipes. Throughout the recipe, I have...
292K
4.8
1 hour 10 min. April 5
th
2017