List of recipes using Filo pastry:
4 recipes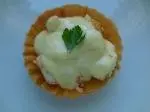 For this recipe, the tart cases are made with sheets of filo pastry. These are filled with langoustines coated in a delicious lime-flavoured sabayon.
14,299
3.8/5 for 10 ratings 1 hour 6 min.

Finely sliced leeks are cooked with a shallot, to which is added leftover chicken with a little cream and parmesan. This mixture is rolled up in filo pastry, and cooked in the oven.
72,255
5/5 for 1 ratings 49 min.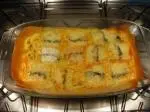 This is a very quick tart recipe, where the crust is made by a stacking filo pastry sheets.
66,869
4.3/5 for 11 ratings 1 hour 17 min.

This is a kind of small crusty parcel with flax seeds, filled with a mix of red rice, diced courgette and smoked ham.
70,821
4/5 for 11 ratings 2 hours