List of recipes using Cured ham:
2 recipes

(lactose free)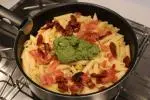 In this recipe, the pasta (whatever kind you prefer) is served with shreds of fried ham and chopped preserved tomatoes as well as a good dollop of pesto.
8,050
3.8/5 for 19 ratings 23 min.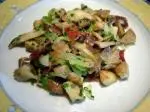 Fresh mushrooms of your choice, cooked just right, thinly sliced spring onions and morsels of cured ham. Straight from the pan to your plate.
68,276 1
5/5 for 1 ratings 49 min.