List of recipes using Saffron:
3 recipes
List of recipes using Saffron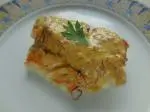 A thick, deboned loin of fish (cod in this case), pan-fried and served with a reduced white-wine and cream sauce, flavoured with shallot and saffron.
74K
4.4
47 min. December 17
th
2014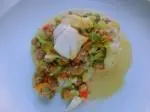 This ragout combines vegetables (cut small and cooked until just tender in vegetable stock) with a mix of cockles and chunks of fish, all simmered together with cream and saffron.
72K
4.1
2 hours 17 min. December 30
th
2019

Paella is a traditional Spanish dish made with round rice, associated mainly with the Valencia region. The name comes from the large two-handled pan in which it is traditionally prepared. This is an adapted version with a mix of meat, vegetables and shellfish.
293K
4.1
2 hours 58 min. February 21
th
2011