List of recipes using Reduced veal stock:
3 recipes
List of recipes using Reduced veal stock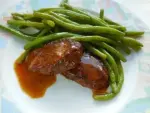 For this recipe with a Mexican flavour (New Mexican, actually), I have used tender medallions of pork fillet mignon. These are first marinated in a spicy oil then pan-fried with the remaining marinade. Serve with green beans and sauce made with a reduced vegetable stock in the frying pan.
38K
5
44 min. November 6
th
2016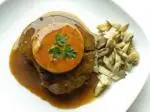 Tournedos Rossini is a very chic recipe, allegedly inspired by the famous composer. It consists of fried fillet steak, served on buttered toast, topped with a slice of foie gras and a delicious sauce made by deglazing the cooking pan with port or Noilly Prat.
292K
3
3.7
46 min. August 26
th
2021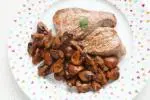 These bourguignon-style mushrooms are cooked in a similar way to the classic beef dish, simmered with red wine and onions – flavours that go really well with mushrooms.
7,722
39 min. December 16
th
2020