For
2 people

, you will need:
Change for:
Measures:
How long does it take?
Time required
| Preparation | Cooking | Start to finish |
| --- | --- | --- |
| 29 min. | 17 min. | 46 min. |
Keeping:
To eat right now.
At what time?
When will I finish if I start the recipe at a certain time?
When should I start for the recipe to be ready at a certain time?
Work this out...
---
Step by step recipe
---
Stage 1 - 15 min.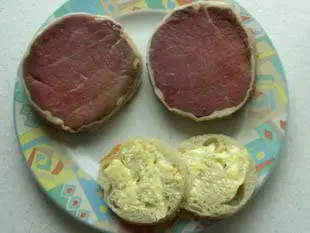 Have your butcher prepare the tournedos steaks for you. This is fillet steak (also known as filet mignon) wrapped in a fine band of pork fat. It is rather expensive, but this is one of the very best cuts. Remove the steaks from the fridge at least 1 hour before using.
Dry both sides of the steaks with
absorbant paper
, then salt and pepper them.
Cut circles of bread about the same size as the steaks (using a
cutter
makes this easier) and butter both sides.
---
Stage 2 - 4 min.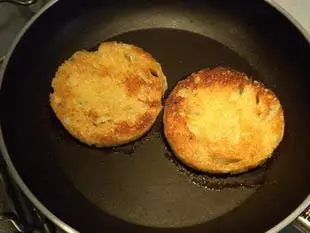 ---
Stage 3 - 8 min.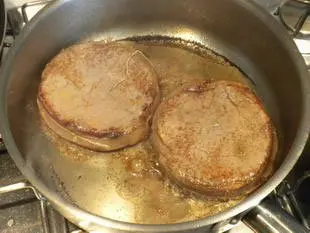 Meanwhile, pour 1 tablespoon
oil
into another frying pan on medium heat, and when hot, add the steaks and fry.
Cook until done to your taste.
See these
tips for cooking red meat
.
---
Stage 4 - 3 min.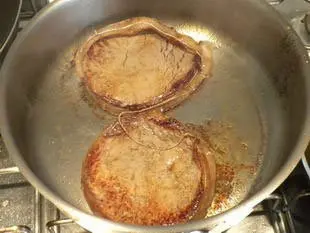 The band of fat should come loose towards the end of cooking. Remove and discard it.

Cut 2 slices of foie gras, about the same size as the bread.
---
Stage 5 - 3 min.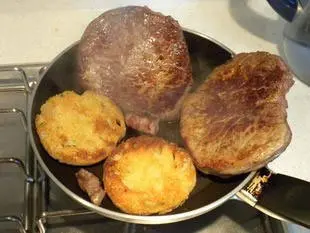 As soon as the steaks are cooked, remove them from the pan and put them beside the toasted bread to keep hot while you make the sauce.

Leave the steak pan on the heat.
---
Stage 6 - 3 min.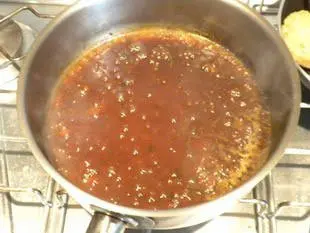 Pour 80 ml
Noilly Prat
(or port) into the pan and, using a
wooden spatula
, scrape the bottom of the pan well so that all the cooking juices are absorbed.
When the liquid comes to the boil, add 20 g reduced veal stock and stir. The sauce will thicken rapidly.
---
Stage 7 - 5 min.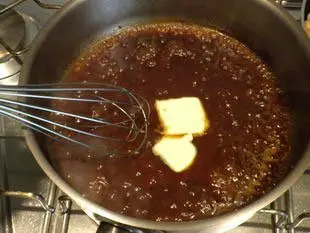 To finish the sauce, add a knob of butter and whisk while it melts. This will give you a smooth, glossy sauce.
---
Stage 8 - 3 min.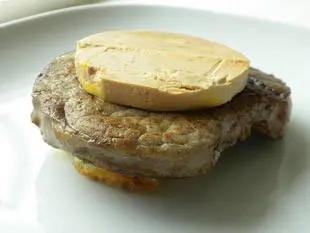 Place a round of toast on each plate, place a steak on top, then a slice of foie gras.
---
Stage 9 - 2 min.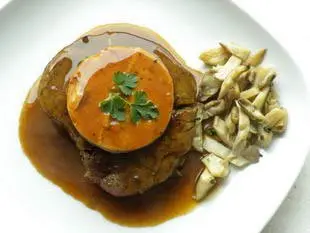 Pour the sauce over and serve immediately. Tournedos Rossini should not be kept waiting.
Remarks
To be completely authentic, the recipe should include thin slices of truffle, but it is already delicious as it is.
I recommend serving it with
pan-fried mushrooms
, for example, or a selection of small vegetables.
I prefer Noilly, as I find that port makes the sauce a little too bland and sweet.
If you don't have veal stock, your can use a beef stock cube instead, but it will not be quite as good.
Nutritional information
% are calculated relative to a Recommended Dietary Intake or RDI of 2000 k-calories or 8400 k-joules by day for a woman (change to a man).
How much will it cost?
For 2 people : 7.39 €
Per person : 3.70 €
Note : These prices are only approximate
And to drink?: A Cabernet-Sauvignon red wine, such as a Saint-Esthèphe.
Source
Home made
More recipes?
This recipe uses (among others)
| | |
| --- | --- |
| | Beef : You can check-out other recipes which use it, like for example: Two-stage beef chuck , Upside-down Parmentier, Fillet of beef in a rosemary crust, Taos hotpot, How to cook red meat properly, ... All |
| | Foie gras: You can get more informations, or check-out other recipes which use it, for example: Paté en croute (terrine in a pie crust), Sarladaise potatoes, Beef Wellington, Foie gras fingers, Foie gras Chantilly , ... All |
| | Noilly Prat: You can get more informations, or check-out other recipes which use it, for example: Pan-fried scallops and chanterelles with Noilly Prat sauce, Scallops with cabbage julienne, ... All |
| | Butter: You can get more informations, or check-out other recipes which use it, for example: Four quarters, Potimarron (Japanese chestnut pumpkin) purée, Baked Mont d'Or with diced mixed vegetables, Genoese croque-monsieur, "Buttonhole" quail eggs, ... All |
News list of cooking-ez.com
Sign up to receive the latest recipes (next batch due to be sent on 2019-07-28)
Note: We'll never share your email with anyone else.
Follow this recipe (as 9 people already do)
If you are interested in this recipe, you can "follow" it, by entering your email address here. You will then receive a notification immediately each time the recipe is modified or a new comment is added. Please note that you will need to confirm this following.

Note: We'll never share your email with anyone else.