List of recipes using Pork chop:
3 recipes
List of recipes using Pork chop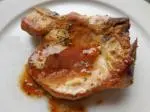 To cook a pork chop well, without it drying out, one of the best methods is to cook it in two stages: start by pan-frying, then finish in the oven. This recipe adds flavour with mustard and thyme, with the cooking juices deglazed and reduced before serving.
235K
3.5
25 min. August 16
th
2015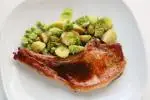 In this recipe, the pork chops are pan-fried and served with a sauce of the reduced pan juices and white-wine, and two different brassicas: Brussels sprouts and romanesco.
34K
4.3
46 min. November 20
th
2016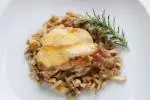 This recipe is cooked in two stages: the chops are flash-fried in a pan, then finished more slowly in the oven. Towards the end of cooking, you can top the meat with slices of cheese, if you like.
36K
4.6
26 min. February 3
rd
2016