List of recipes using Ricotta:
2 recipes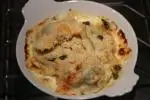 The filling for these ravioli is a delicious mixture of ricotta with cooked spinach, egg and lightly toasted pine nuts. The ravioli are first boiled in salted water, then baked gratin-style with cream, Parmesan and sage.
7,518
4.8/5 for 18 ratings 1 hour 12 min.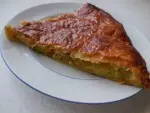 This is a Sicilian version of the French Epiphany dessert, the "galette des rois". The puff pastry has a pistachio cream and ricotta filling with diced candied fruit.
11,677
3/5 for 2 ratings 1 hour 1 min.