List of recipes using Mussels marinière:
2 recipes

(without meat)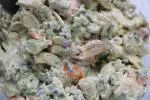 A bold salad idea that brings together 3 ingredients which rarely end up on the same plate: cucumber, avocado and mussels, in a rémoulade dressing.
549 21 min.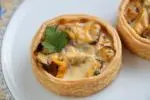 A blind-baked puff pastry case, filled with shelled mussels in a velvety sauce made with beer and Maroilles cheese.
395 1 hour 19 min.