List of recipes using Hamburger buns:
5 recipes
List of recipes using Hamburger buns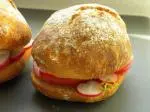 Pan Bagnat is a traditional recipe from the Nice area. The name means "soaked bread", as it consists of a round bread roll that has been drenched with a mix of oil and vinegar then filled vegetables and fish. Years ago this was the snack that fisherman took with them on their boats, but this is a...
141K
4.1
43 min. October 18
th
2020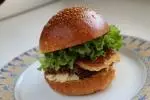 Time for a fresh take on burgers with this Mexican-inspired version. The beef patty is pepped up with chilli spices and partnered with a plainer patty made with red kidney beans.
17K
1 hour 2 min. May 12
th
2021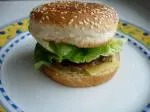 Hamburgers don't have to be the greasy flabby things you find in fast-food outlets, well-made they can be excellent. It's a very convivial recipe as everything goes on the table, and everyone assembles their own burger according to personal taste.
401K
4.8
33 min. December 6
th
2015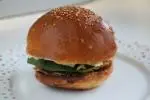 For this Tex-Mex inspired burger the usual beef pattie has been abandoned in favour of fried chicken with chilli, put together with sliced avocado and raw baby spinach.
13K
47 min. June 23
th
2021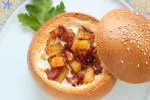 In this recipe, a simple burger bun is hollowed out to hide a filling of fried potatoes and bacon in a pool of hot cancoillotte cheese. It is usual to eat the filling first, then the bread, still piping hot, with the remaining cheese. Children really love this!
22K
38 min. May 10
th
2020