Products and ingredients: Vanilla
---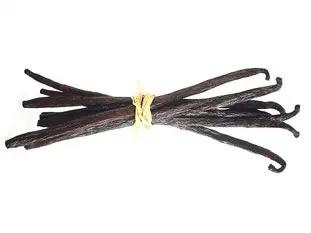 Vanilla
Vanilla is a spice produced by a kind of orchid, originally from South America. After harvesting and treatment it is sold in the form of black pods about 4 inches long.
Vanilla can be found in different forms: beans (pods) - the best kind, and in liquid essence or powder extract.
The best vanilla (it is said) comes from the islands of Madagascar and Réunion in the Indian ocean, so called "Bourbon Vanilla ", but many other places in the world produce vanilla.
In particular Tahiti produces a special kind with large and very fragrant beans.
If you intend to buy:
Buy pods as thick as possible and supple to the touch, as this is a sign of freshness and quality. See
my best addresses
on this subject.
Last modified on: September 18th 2022