The cake and the raisins
It's not that simple to have this even distribution, basically you want to have this: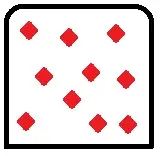 Rather than this: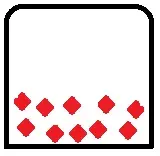 For this, or rather to avoid the second option, bakers all learn in their training the following method (let's say you want to make a cake with diced candied orange):
You put the diced candied oranges (or raisins, etc.) in a bowl, and sprinkle them with a little flour taken from the flour provided for the cake batter. Note that no extra flour is added.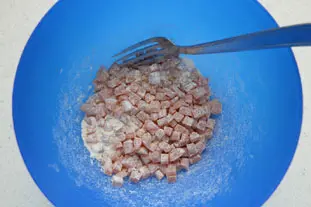 Mix everything carefully, with a fork, to coat all the orange cubes with flour.
This is quite easy with candied fruit because it is sticky, if you use raisins that are a little too dry, to which the flour does not stick, moisten them very slightly (1 tablespoon of water) before pouring in the flour.
Then make your cake batter as normal, add the excess flour from the bowl, and just before putting into the tin, add the floured candied fruit, mix quickly, put into the tin and bake.
Well, I have to be honest with you, it's not a 100% sure method, the great Gaston Lenôtre himself, when he explains this method in his books, adds at the end "in theory...".
So I propose you another method that I like:
You make your dough normally, once finished, you do not put it in the mold, but in the refrigerator for at least 1 hour
At the end of this time, the dough will have firmed up because of the butter it contains => add the raisins or candied fruits at this time, and stir well (be careful, it is much harder than a dough coming out of the mixer)
Put it in a mould and put it in the oven immediately
You can try these 2 methods, and choose the one that seems to you the most effective, or, why not, combine the two.
To sum up
: To prevent the filling of a cake from falling to the bottom of the pan when baking, you have to either coat the filling with a little flour, or incorporate the filling into a very cold dough, or both.