The ideal restaurant
Like all passionate cooks (I suppose), from time to time I dream of opening my own restaurant.
I imagine loads of things: it will be like this or like that, we'll do this, I'll cook that, the room will have this or that – in short, I dream.
But now I have a son who's in the trade (cook-in-exile in Brussels as I write), and another who, even with a Master's in Biology, passed several summers as "chef de commis" in a restaurant on the coast, I've been able to see what a real restaurant kitchen is like and how it functions. This (alas) brought me back down to earth with a bump…
But no matter, I'll carry on as if the two lads I've just mentioned are still little and we're playing games, of the sort that start with "Let's say that…" or "What if…"
So, let's say that:
- It would be a small, even very small restaurant, about twenty covers. One person serving, two at most in the kitchen.
- There will be a bread oven with the door opening in one inside walls of the main room. We'd bake a batch of
levain-raised bread
for the evening service, which will come out of the oven (the timing is crucial) while customers are arriving. There would be a batch of plain bread rolls and various
specials
. They'd be served fresh and still hot from the oven, and everyone would be offered one in a paper bag to take away when they pay the bill.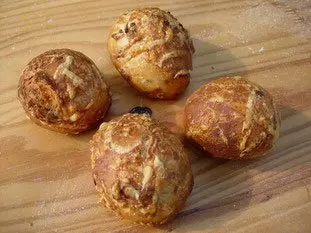 - From time to time, there would be pizza or flammenkueche days, or for any other dish that can be cooked on an open fire, but no fresh bread on those days.
- No menus on paper, just a flat screen (or more than one depending on the room layout) on which photos of the dishes of the day would scroll through. Tablets (iPad style) would be passed around to diners so that they could consult the menu electronically. This would effectively be a mini-website in the language of their choice, diffused by wi-fi through the restaurant. Customers mobile phones and smartphones could log onto it or access the internet while they are waiting for food to be served. Diners could even order themselves, or call the waiter, who would also take the order in electronic form. This would then appear directly on a screen in the kitchen.
- The style of cooking would be simple, not a huge menu, but everything with plenty of flavour,
properly cooked
, as much fresh local produce as possible, preferably organic. One fixed midday menu, with just 2 choices of main course and dessert. Dishes would always vary according to the season, the market and events.
- Themed meals :
Sushi
, Spain, Mexico,
Slow Food
, etc.
- Some "core dishes", easy to prepare in advance and store, would always be available, winter and summer:
Pâté de campagne
, assiette de cochonnaille (selection of cold pork meats),
crème brulée
,
tiramisu
, etc.
- At the end of the meal, a choice of 2 coffees: classic espresso, or a "longer" coffee in a cafetière served at the table with (free, maybe?) top-ups. In both cases, these would be served with a little home-made treat:
meringues
,
financiers
, chocolate, etc. which would change every day.
Right, now all I have to do is come up with the name …