The 3 essential knives
In other words, your recipes stand a better chance of success, and will be easier and more enjoyable, if you have the right tools to begin with.
And when it comes to tools, the first and foremost, without which you can do nothing, the kitchen's alpha and omega, is the knife.
It's what cooks do: we cut, trim, slice, chop, peel, and a whole host of other verbs that describe everything that can be done with a knife. Let's be clear, without a knife you would be hard pushed to do anything well, apart from a bit of baking. Even then, just for lining a simple tart tin, you would need to trim around the edges.
So you will need a knife, and a good one. No, on second thoughts, you will actually need three. With these, an amateur can do everything (or almost). Here they are in order of importance:
Paring knife

- Top place goes to this small knife with a blade of a similar length to the handle, about 3.5 to 4 inches (8-10 cm). This is very useful for cutting up small any food that is neither too large nor too hard. It's the all-purpose knife that we reach for very often. The small blade makes it ideal for fine cutting or fancy details. Typical tasks: dicing a shallot.
Medium chef's (or utility) knife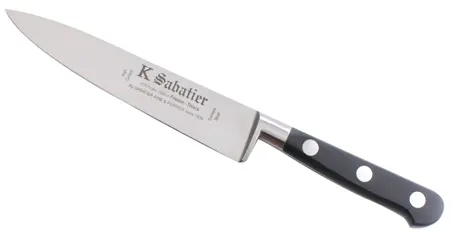 - In second place is this medium-sized knife, about twice the size of the paring knife. The blade is a little thicker and longer and the handle is wider, which sits snugly in the hand. This is also a general work-horse knife, but not for cutting small, as the blade is too large. Typical tasks: Jointing or cutting up meat.
Large chef's knife

- In third place is this hefty chef's knife, used for chopping. It is about three times the size of the small paring knife. The thick blade and solid handle allow cutting that requires an element of force. This is the specialist tool for chopping vegetables, but not only that. Typical tasks: chopping up a celeriac or cutting leeks into large chunks.
With these three you will be able to do everything you need, or almost, I would say. You will also need a vegetable peeler to make life easier and, if possible, a honing (or butcher's) steel or whetstone to keep your three knives well sharpened. There's nothing worse than a knife that doesn't cut because it's been badly sharpened.
While we're about it, just a word about quality. As always, you should invest a decent amount, but without going over the top. There is no need to buy really expensive Japanese knives (OK, they're classy, I know); you would be better off with decent French knives, with stainless blades and handles in something other than wood, as these are not extortionately priced. They will last you for many years. Meryl Streep, the American actress, once said on a TV show that every time she goes to France, she can't resist buying French chef's knives for their exceptional quality.
To sum up
: To cook well, you will need 3 knives: paring, medium and large chef's knives. Stainless steel blade, handle not in wood. And good quality – de la qualité!