How long does it take?
Time required for this recipe:
| Preparation | Start to finish |
| --- | --- |
| 16 min. | 16 min. |
At what time:
When will I finish if I start the recipe at ... ?
When should I start for the recipe to be ready at ... ?
---
Step by step recipe
---
Stage 1 - 2 min.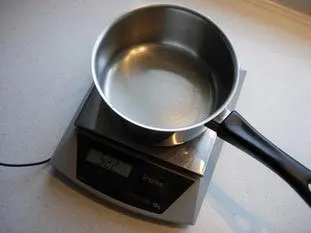 Before you start cooking, weigh and make a note of the weight of the empty pan you are going to use. For instance, the pan you see in the photo weighs 552 g.
---
Stage 2 - 2 min.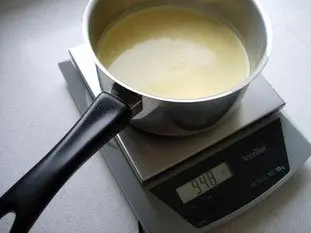 Then make the preparation as usual, and when it is finished, weigh the pan again
full
.
For example, the pan full of
custard
you see in the photo: 948 g.
Then calculate the weight of preparation you have made: 948 - 522 = 426 g.
---
Stage 3 - 2 min.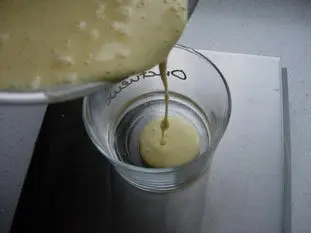 If you need to divide this between 6 glasses, you will need 426 g /6 = 71 g, rounded down to 70 g per glass.

Place a glass on the scales, reset to 0 g, and pour in enough cream to add 70 g.
---
Stage 4 - 10 min.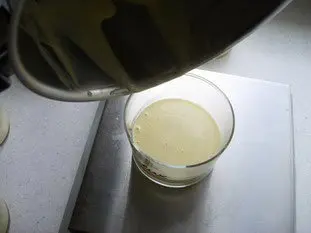 Do this for all 6 glasses, and you will enjoy the satisfaction of scraping round the pan with a
maryse
or spatula to arrive exactly at the 70 g needed for the final glass!
Remarks
This is particularly useful if you need to divide out two different preparations evenly, like for
coconut-vanilla cream for Elsa
for example.
Don't hesitate to take 5 minutes of your time, to weight and make a note of all your pans. It will be very useful one day.
Source
Home made.
Other recipes you may also like
News list of cooking-ez.com
Sign up to receive the latest recipes (next batch due to be sent on 2021-08-01)
Note: We'll never share your email with anyone else.
Follow this recipe
If you are interested in this recipe, you can "follow" it, by entering your email address here. You will then receive a notification immediately each time the recipe is modified or a new comment is added. Please note that you will need to confirm this following.
Note: We'll never share your email with anyone else.