How long does it take?
Time required for this recipe:
| Preparation | Start to finish |
| --- | --- |
| 20 min. | 20 min. |
At what time:
When will I finish if I start the recipe at ... ?
When should I start for the recipe to be ready at ... ?
---
Remarks
Passion fruit are (in metropolitan France) rather expensive, but they have a gorgeous taste.
Nutritional information
Whole recipe
Energetic value
Proteins
Carbohydrates
Fats
500 Kcal or 2,093 Kj
15 gr
110 gr
0 gr
25 %
6 %
10 %
0 %
Per 100 g
Energetic value
Proteins
Carbohydrates
Fats
100 Kcal or 419 Kj
3 gr
22 gr
0 gr
5 %
1 %
2 %
0 %
% are calculated relative to a Recommended Dietary Intake or RDI of 2000 k-calories or 8400 k-joules by day for a woman (change to a man).
Some recipes that use this recipe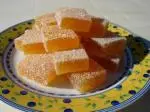 Usually to make fruit jellies or (fruit "paste"), it's like jam but you need to cook fruit pulp and sugar much longer. Unfortunately, this long cooking is bad for both vitamins and flavour. In this recipe we use a special jam gelling agent, to reduce cooking time as much as possible .
285K
4
2 hours 30 min.
See all recipes that use it
Source
Home made.
More recipes?
This recipe uses (among others)
Other recipes you may also like
News list of cooking-ez.com
Sign up to receive the latest recipes (next batch due to be sent on 2021-08-08)
Note: We'll never share your email with anyone else.
Follow this recipe (as 23 people already do)
If you are interested in this recipe, you can "follow" it, by entering your email address here. You will then receive a notification immediately each time the recipe is modified or a new comment is added. Please note that you will need to confirm this following.
Note: We'll never share your email with anyone else.