---
Stage 1 - 1 min.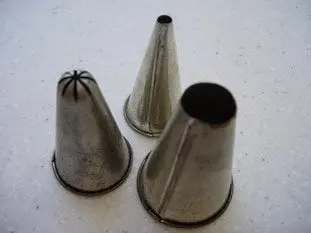 Decorative nozzles


Using a forcing bag also means you can use decorative nozzles. You will find many different shapes and sizes in specialist stores, either singly, or in sets. There are two main types:

1) Metal ones, a bit outdated now, and which eventually go rusty.
---
Stage 2 - 1 min.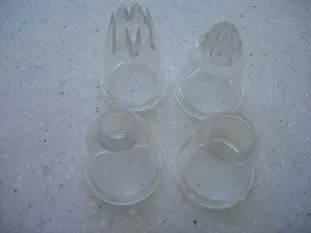 2) Plastic ones (polycarbonate), a bit more expensives, but easier to clean.
---
Stage 3 - 1 min.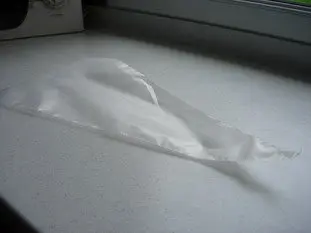 Forcing bag
You will find
forcing bags
in specialist shops, sometimes for single use (packet of 100 in general).
---
Stage 4 - 1 min.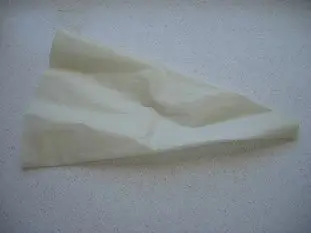 You can of course use washable forcing bags (more economical and more environmentally-friendly).
---
Stage 5 - 1 min.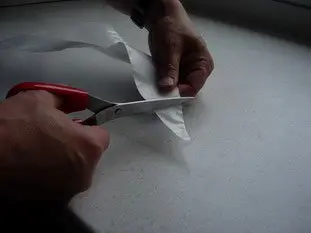 If it's a disposable forcing bag, or a new one, cut off the end with scissors, about 3 cm from the tip.
---
Stage 6 - 1 min.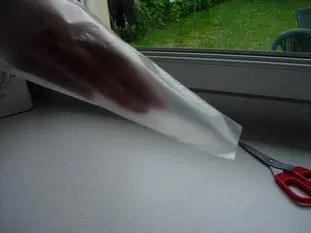 Put your hand inside to open it.
---
Stage 7 - 1 min.
Slip the decorative nozzle you have chosen down into the bag and push it until it is firmly in place (well sealed around the edge).
---
Stage 8 - 1 min.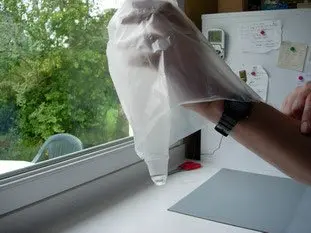 Position your hand as if you were holding a bottle in it (forming a "C" with your thumb and your forefinger), and put the forcing bag into this "holder", and fold the wide open end back over your hand.

This is to leave the opening as large as possible and make filling the bag easier.
---
Stage 9 - 2 min.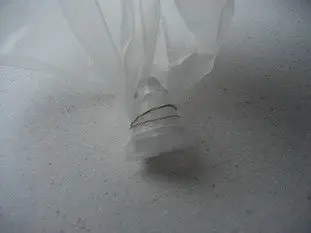 If your preparation is more liquid than thick, here is a tip: fold up the nozzle end, and secure with a rubber band during filling.
---
Stage 10 - 3 min.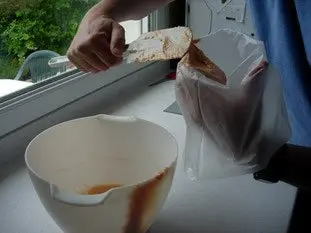 Take the forcing bag in your hand, (still in a "C"), and fill with preparation, here apricot macaroons.
For this you can use a
maryse
as in the photo, or a dough scoop which is much easier.
---
Stage 11 - 2 min.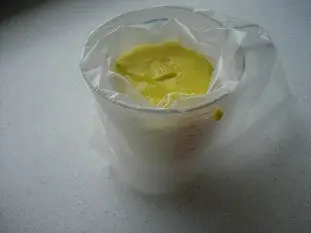 Another tip, if you need both hands to fill the bag, put it in a tall container like a vase or a measuring jug.
---
Stage 12 - 1 min.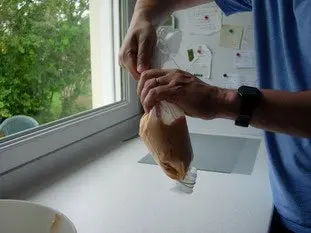 Once all the preparation is in the bag, close it while trying to exclude air as far as possible.

Twist the end of the bag to to squeeze the contents, and in doing so make the "handle" of the forcing bag.
---
Stage 13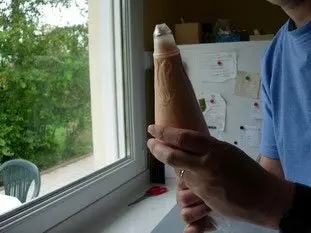 If you opted for the rubber band trick (for fairly liquid contents), hold the bag point upwards when removing rubber band.

Finally twist the handle so that preparation is ready to be squeezed out.
---
Stage 14 - 5 min.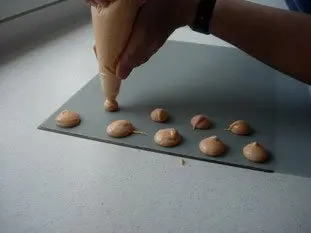 Tip the forcing bag nozzle downwards, and begin using it. The right gesture is:
Press lightly on the end of the bag to push out just the required quantity of preparation
Give the nozzle a smart little lift forward to stop the flow of the preparation, and go on to the next "blob".
---
Stage 15 - 1 min.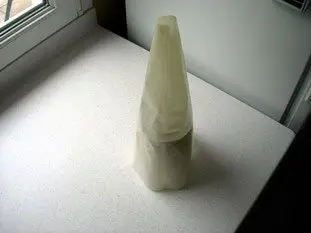 Finally, if you use a washable bag, I recommend that after washing you slip it over a bottle to dry it faster.