How long does it take?
Time required for this recipe:
| Preparation | Cooking | Start to finish |
| --- | --- | --- |
| 39 min. | 1 min. | 40 min. |
At what time:
When will I finish if I start the recipe at ... ?
When should I start for the recipe to be ready at ... ?
---
Step by step recipe
---
Stage 1 - 10 min.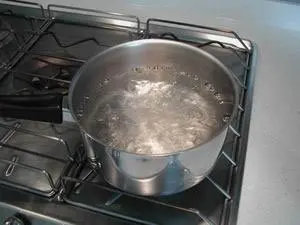 Boil a large pan of water, and prepare a large bowl of cold water (the kitchen sink, half filled, is fine).
---
Stage 2 - 5 min.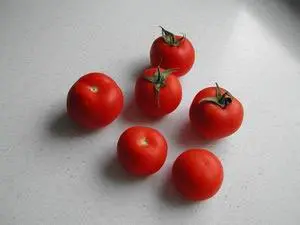 Remove the small green stalk from each tomato (if there is one).
---
Stage 3 - 3 min.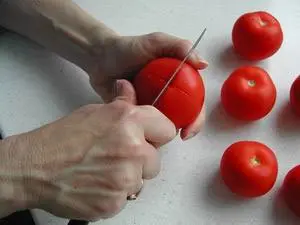 Then with a good knife cut a cross in the top of each tomato.
---
Stage 4 - 1 min.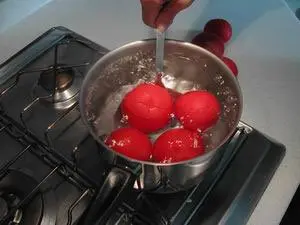 When water is boiling, put two or three tomatos in the pan. Leave them in for 20 seconds.

Note: If you leave tomatoes too long in boiling water, they will start to cook, and that's not the goal.
---
Stage 5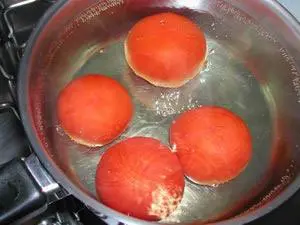 The skin will split, starting from the top incision.
---
Stage 6 - 1 min.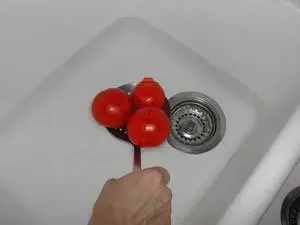 Remove them with a
skimmer
or a fork, and plunge immediately into cold water. Continue with all tomatoes.
---
Stage 7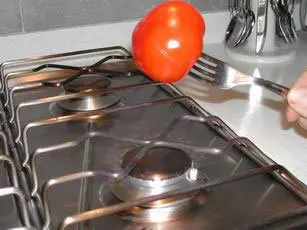 Other way:

Joel Robuchon advised in one of his recipes to avoid plunging tomatoes in water (because it removes some of the taste), but instead to stick the fruit on a fork and turn it above a gas flame. It works well.
---
Stage 8 - 3 min.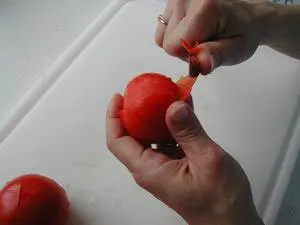 Remove tomatoes from cold water, peel off the skin with a knife discard it.
---
Stage 9 - 5 min.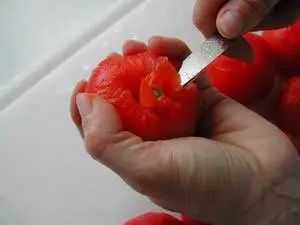 With a knife remove the green and hard core of the tomatos ("the bone"), and discard it. The tomatoes are ready to be used, in a
tomato tart
for example.
---
Stage 10 - 2 min.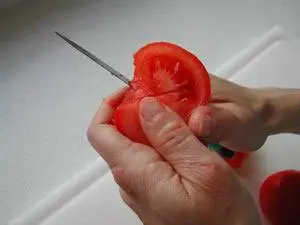 If you want only tomato flesh: cut them in four.
---
Stage 11 - 5 min.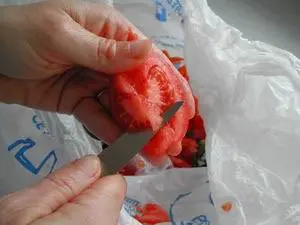 Then cut each quarter, from top to bottom, exactly as if you were tracing a "C" with the knife blade.
---
Stage 12 - 5 min.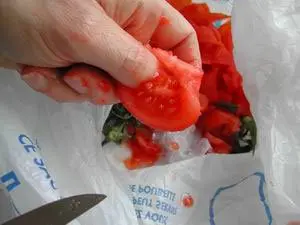 Discard the intside of the quarter, and remove any remaining seeds.
---
Stage 13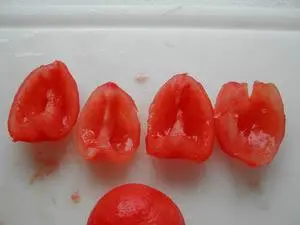 You should have made tomato petals, ready to be used just as they are or cut smaller, in a salad with garden herbs for example, or cooked in another recipe like the
tomato preserve
.
Remarks
The tomato is a very delicate fruit that fears the cold. If you put it at the refrigerator, it will very quickly lose the little taste that it has (if it's a commercial tomato, which cannot compete with a home-grown tomato). So it's best simply to store them at room temperature.

According to the variety of tomatoes, and the thickness of skin, (home-grown tomatoes have thicker skins), it might be necessary to leave them in boiling water for a few seconds longer. In any case, never exceed 30 seconds, otherwise the tomatoes start to cook.

Some recipes suggest removing the core of the tomato before putting it into boiling water. I think this is a bad idea, because the water gets inside the tomato and reduces the flavour even more.
Keeping:
1 or 2 days in the fridge, protected by a plastic film.
Nutritional information
Whole recipe
Energetic value
Proteins
Carbohydrates
Fats
80 Kcal or 335 Kj
4 gr
16 gr
0 gr
4 %
2 %
2 %
0 %
Per 100 g
Energetic value
Proteins
Carbohydrates
Fats
20 Kcal or 84 Kj
1 gr
4 gr
0 gr
1 %
<1 %
<1 %
0 %
Per tomatoes
Energetic value
Proteins
Carbohydrates
Fats
20 Kcal or 84 Kj
1 gr
4 gr
0 gr
1 %
<1 %
<1 %
0 %
% are calculated relative to a Recommended Dietary Intake or RDI of 2000 k-calories or 8400 k-joules by day for a woman (change to a man).
How much will it cost?
For 4 tomatoes : 1.60 €
Per tomatoes : 0.40 €
Source
Home made.
More recipes?
This recipe uses (among others)
Other recipes you may also like
News list of cooking-ez.com
Sign up to receive the latest recipes (next batch due to be sent on 2021-08-08)
Note: We'll never share your email with anyone else.
Follow this recipe
If you are interested in this recipe, you can "follow" it, by entering your email address here. You will then receive a notification immediately each time the recipe is modified or a new comment is added. Please note that you will need to confirm this following.
Note: We'll never share your email with anyone else.